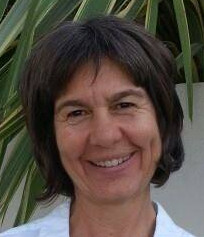 Andrea Battermann first qualified with a Diploma in Social Work in Germany in 1985, working in alternative education and rehabilitation with disability at all levels. She further qualified as a physiotherapist in 1992 in Germany. She moved to Scotland and worked in various specialties i.e. neurological rehabilitation, chronic pain management, rehabilitation of amputees, obstetrics and gynecology and out-patient clinics within the National Health System. (NHS). In 1994, she qualified as a Shiatsu practitioner with the European Shiatsu Institute and registered as a practitioner and as a teacher with the Shiatsu Society in the UK. She was the founder and principal of the Edinburgh Shiatsu College from 1996-2001. From 1995-2002 she studied Process Orientated Psychology (POP), a Jungian based and body orientated psychotherapeutic approach.
She have lectured locally and nationally for many years in a variety of settings within the NHS, Universities, Conferences and in private schools. She is the co-author of the books Complementary Therapies for Physiotherapists and Massage Skills for Physical Therapists.
Over the years she has built up a successful private practice combining all the skills derived from the various qualifications.